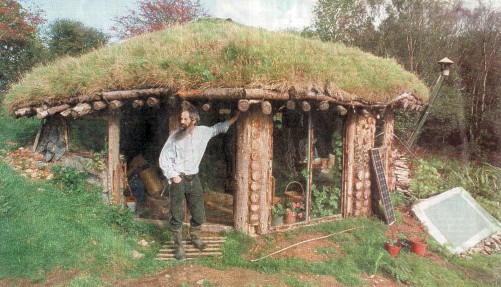 The following transcript is taken from an article in The Times from Friday October 23rd 1998. The article is unedited and has not been altered:

A self-sufficient hillside community comes out fighting for its way of life, reports Simon de Bruxelles:

There was nothing on any map, so, when a pilot caught a glimpse of something mysterious concealed on a Welsh hillside, he decided to take a closer look.

What he found astonished him. Hidden in the middle of a national park was a secret village of half a dozen buildings clustered around a dome-like structure erected on stilts.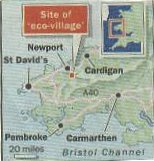 The village was entirely self-sufficient, generating its own electricity, growing its own food, using solar panels for heating and taking water from local streams. For four years the tiny community had entirely escaped the authorities' attention.

But now the 22 residents of the "eco-village" are to be evicted and their homes of wood and turf are to be bulldozed because they were built without planning permission.

The village was first spotted by a pilot surveying the Pembrokeshire National Park who caught a glimpse of sunlight reflecting off a solar panel. When planning officials investigated they found villagers self-sufficient, living in buildings made from turf and wood behind a screen of trees and shrubs and well off the beaten track.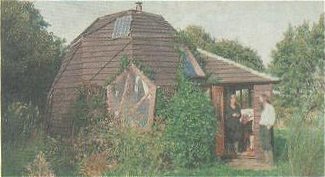 The villagers said yesterday that they would fight the decision to demolish the community they had spent years creating. Liz Terry, 42, said "I don't feel they understand what we are trying to do. If we have lived here for years without being noticed, then what harm can we be doing? It's a very experimental project in its early stages and I think we needed to show them what we are trying to achieve. We are aiming to address the problem of rural depopulation by taking care of the land and ensuring people can live in a sustainable way. There are larger issues at stake here than planning."

The villagers are appealing against the ruling by the Pembrokeshire National Park Authority and the issue is likely to go before a public inquiry.

The six buildings facing demolition include a dome built on stilts, where the members of the community meet and work, a roundhouse with a turf roof, a woodern marquee, a wood store and workshop. They have all been constructed from nearby woods. A small lake, which the commune members dug, will also have to be filled in. The twelve adults and ten children in the community are mainly vegetarian and live off the land growing all their own vegetables. Power comes in from the solar panels set in the roofs of the buildings, a wind generator and a water turbine using the waters of a small stream. It generates enough power for heating, lighting and even running the community's one computer. Villagers draw water from the stream and use wood from a nearby copse to fuel their fires.

The village, called Brithdir Mawr, was set up by an architectural historian, Julian Orbach, 45, and his wife Emma, in the foothills of Mount Carningli, near Newport, Pembrokeshire, four years ago. They renovated a farmhouse and moved into it with their children Martha, now 16, Ruben, 14, and Agnes, 11. They converted out-buildings into a hostel that is now used by backpackers.

Other income for the community comes from members running a range of courses in subjects such as straw bale bulding, dry-stone walling, singing, music and voice training. Mrs Orbach said "We are very disappointed that the national park authority has not supported our project. We are unhappy they have decided to take such action without even bothering to view the site first. We will be appealing against the enforcement order and putting in retrospective planning applications even though we have been told these will not be accepted".

Support for the village commune has come from Brian Wood, of the West Wales Energy Centre, who said the residents' efforts were laudable and that low impact communities and sustainable development should be encouraged wherever possible.

The chairman of the national park development control committee, David Edwards, said "However much we sympathise with the aims of the project, we have to apply planning laws equally and fairly to all. It is very unfortunate that these people did not come and talk to us first.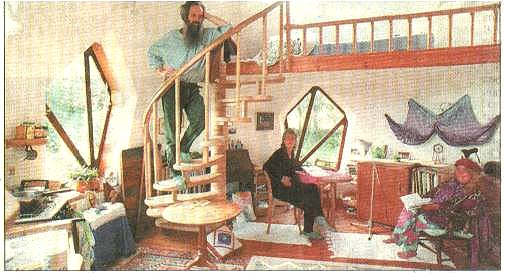 Authors Notes:

Brithdir Mawr showed the way forward. Other eco-home projects were to follow such as the BedZED house.