Records current for stardate 13400/Terran year 2312. [Records in alphabetical order]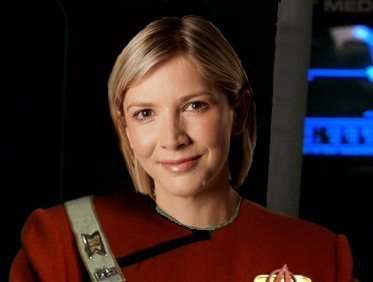 Doctor Helen Marshall.
Rank: Lieutenant Commander
Service Number: ME 701-2416s
Assignment: NCC-1976, USS Sheffield, Miranda class.
Position: Mission specialist for psychiatry and comparative psychology.
Security Clearance: Level 4.
Born: July 6th 2272, Hayling Island, England, Earth.
Race: Human female.
Marital Status: Single.

Personal

Marshall grew up on Hayling Island, the millionaires island of the 21st and 22nd Century. Helen shied away from the contacts her parents had, wanting to find her own feet without their help. She travelled extensively across the world, studying dolphins and whales off the coast of Australia, Pacific and Atlantic coasts and Antarctic. The closest place to this that Helen found out in the Federation was the world of Pacifica. After travelling, Helen joined Starfleet, attending Starfleet Medical for training.

Dr. Marshall has the field rank of Lieutenant Commander but prefers to be referred to by her medical title. Marshall is very up on modern medical techniques and is eager to employ the lastest medicines or equipment where possible, citing the need to give the patient the best medical treatment available. Helen is an only-child and the daughter of Starfleet medical parents, both experts in medical fields. Some say that Helen has had a spoiled childhood, being treated especially well, others would argue that Helen rejected this, wanting to be accepted for who she is, not what her parents are and what they have achieved.

Helen Marshall enjoys old Earth movies as it reminds her how things have changed in some ways, but not in others. The old science fiction movies amuse her as they show how humans once thought space travel was going to be - where you could always breathe on alien worlds and how every alien either spoke english or wanted to eat you.

Helen Marshall is probably Commander Hawkins' oldest friend on the ship, and has a common friendship with Peers dating back to when Peers and Hawkins were dating. Even when the Peers/Hawkins relationship broke down, Marshall still managed to keep a friendship going with both of them. Hawkins owes Marshall after she saved his life at the Academy and she saw him through his time of stress. Marshall and Peers can often be seen around the ship together, discussing cases. With the current breakdown of the Peers/O'Reilly relationship, Marshall often acts as Peers' listening ear.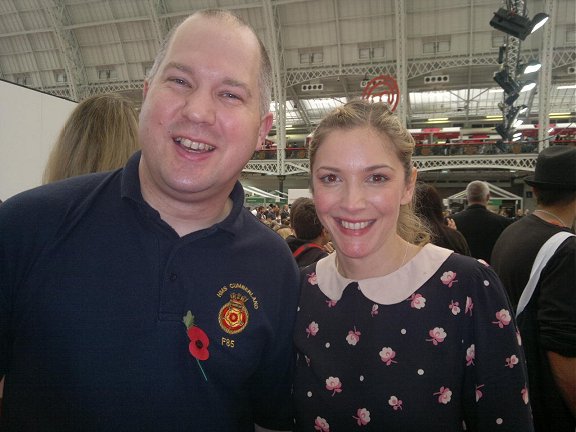 Career

Helen Marshall is a medical graduate from Starfleet Academy. She specialised in psychiatry in her final years at Starfleet Medical. Marshall graduated in 2300 as a lieutenant [jg]. Marshall's first assignment was the Nirvana Rehabilitation Colony. Nirvana is an extensive specialised facility for Starfleet personnel who have been traumatised either physically or mentally from their experiences. Marshall's approach using a biological/medical technique involving psychopharmacology was contrasting with the techniques of Judith Peers with her clinical psychological approach.

Marshall was transferred to Xythis IV to study the marine wildlife there. Doctor Marshall transferring to the U.S.S. Sheffield in 2322 by the request of Lieutenant Commander Judith Peers. Helen arrived with her colleagues Mr Moss and Mr Ramon. They came as part of the Cetacean Ship System team. Working with the two dolphins aboard the Sheffield, the team enable the Sheffield to enhance the reactions and manoevreability of the ship. Helen's experience at the Nirvana colony, coupled with her specialist knowledge makes her an invaluable part of the Sheffield team for the mission ahead.

Lisa Faulkner is a Trekker. She was asked in a 2005 Yahoo live chat 'Have you always been into Star Trek? When did you become a fan?' to which Lisa replied: 'well I loved Star Trek when I was younger, but i lost it for a while until i got a boyfriend who was into it'. Her favourite characters are Janice Rand and Seven of Nine. Tom Paris is the character she most relates to 'because he was into memories and old movies'. Lisa is also a fan of the Alien films and V. Lisa's fave Trek episode 'the one where Janice Rand is in it - called Miri'. This character is dedicated to Lisa, and I've a few stories coming up that should show how this characters differs from previous medical characters she has played.

November 2011 at the Masterchef Live event at Olympia, London, I finally got to meet Lisa. I finally get to meet the person whom I have depicted as an old friend of Hawkins.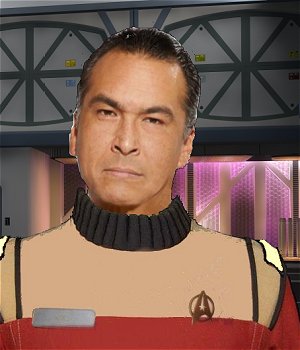 'Master Chief' Kissunguaq
Rank: Master Chief Petty Officer
Service Number: SB 777-2001q
Assignment: NCC-1976, USS Sheffield, Miranda class.
Position: Command Master Chief
Security Clearance: Level 5.
Born: April 2nd, 2261, Inuit Territories
Race: human male.
Marital Status: Married.

Career


2279 Graduated Starfleet Academy
2279 - 83 U.S.S. Hood, Constitution class.
2284 - 89 U.S.S. Essex, Constitution class.
2290 - 95 U.S.S. Essex, Constitution class.
2295 - 98 U.S.S. Nottingham, Miranda class.
2299 - 2301 U.S.S. Scimitar, Saladin class.
2302 - 2307 U.S.S. Argyll, Constellation class.
2308 - 2311 U.S.S. Ocean, Ark Royal class.
2322 - U.S.S. Sheffield MCPO Command Master Chief.

Security officer with plenty of experience under his belt. Master Chief is as much a sourcebook for Starfleet traditions, both official and unofficial, as he is a galactic encyclopedia. Buffer has seen it, done it [at least twice] and owns all the T-shirts and merchandise associated with whatever 'it' may be. Wise in matters of security, the wisest security officers go to him for advice. Master Chief is one of the few 'Red Shirters' to survive the 5-year missions with the Constitution class vessels - his being the Essex - which has taught him many tricks on how to get out of tight scrapes.

'Master Chief' has adopted the old Royal Navy title as his name because, as he always jokes, his real name is unpronounceable. Master Chief has had a solid and reliable career since the time of James Kirk's 5-year mission.

Author's Note: My tip-of-the-hat to experienced NCOs, personified in sci-fi by Chief O'Brien and Security Chief Crocker from Seaquest DSV - as well as a tip-of-the-hat to the hero of 'Halo'. A source of general knowledge from experience, and a valuable asset in staying alive in those all-too-often tight spots.


More info on inuits at: http://www.violettanet.it/links/INUIT.htm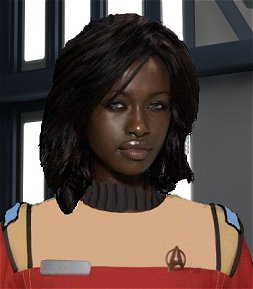 Makemba Muana.
Rank: Chief Petty Officer
Service Number: SS 474-7721h
Assignment: NCC-1976, USS Sheffield, Miranda class.
Position: Departmental Co-ordinator (Special Services).
Security Clearance: Level 2.
Born: September 27th 2290, Kinshasa, Congo, Earth.
Race: Human female.
Marital Status: Married.

Makemba transferred to the Sheffield along with Lt Commander Eryn Hart, having worked with her as embassy staff. Muana has a good track record as being meticulous in details and creative in her solutions to supplying results to all the requests Eryn has given her.

Oggta


Rank: Lieutenant [brevit]
Service Number: CK 100-1321f
Assignment: NCC-1976, USS Sheffield, Miranda class.
Position: Chief Security Officer.
Security Clearance: Level 6.
Born: January 30th 2291, Sauria.
Race: Saurian male.
Marital Status: Single.

Family:

Relationship with Father: has made a career out of the security/police force, but he has only ever being able to attain a certain rank in the force. Wanted to live out what he didnt achieve in Oggta, as of rank in the force. But Oggta was only ever interested in Starfleet and this strained the relationship to breaking point when he entered Academy. Oggta was never good enough in his eyes unless he was wanting to join the force. Even when he went through a phase when he did want to he was still criticised because he would have had more potential then him.

Basically its a jealousy thing, Oggta's grandfather is a high ranking official in the force and it has formed a vicious circle between the three generations of Oggtas where his father never pleased his grandfather and now his father has pushed his son Oggta away.

Career:

Oggta joined Starfleet Academy in 2309 and soon proved himself capable in the physical routines of the cadet course, excelling in the first year. As a result of this, Oggta was selected by Commander Matsui Yoshida, formally the Security Chief aboard the U.S.S. Achilles, to do extra training as she felt he would make a superior security officer.

Somewhere in here we'll mention the important mission that Oggta went on as a cadet and excelled as a security officer - maybe taking over when the regulars are killed. This mission will take place in your third and fourth year at the academy. I'll think of a few cool british names for the ship for ya

Following Oggta's successful mission on the starship 'Lollipop' [hey just a temporary name] Oggta had the rank of ensign made permenant.

Here we'll have Oggta finishing in the top 3 - 5 of the academy and coming out as a Lieutenant [jg] rather like Lt Saavik from Star Trek II. Also going to have Oggta join the Sheffield straight from the academy, with the incident that gained him a good reputation recent in everyones mind.

On stardate 12603, Lieutenant Oggta was assigned to the USS Sheffield as the new Chief security Officer. Oggta was further surprised by his brevit promotion to Lieutenant, not expecting to actually be placed in charge of the department.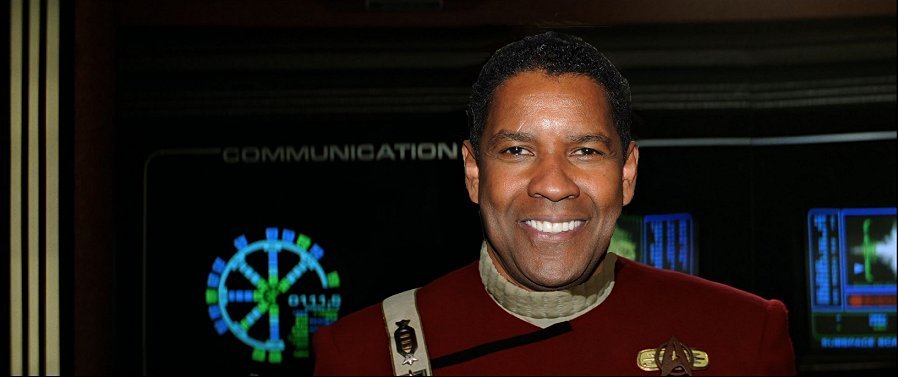 Raekwon Okigbo.
Rank: Captain
Service Number: CA 774-6933c
Assignment: NCC-2541, U.S.S. Hood, Excelsior class.
Position: Commanding Officer [2306 - .
Security Clearance: Level 8.
Born: December 28th 2254, Nigeria, United States of Africa, Earth.
Race: Human Male.
Marital Status: Married.


Description

Raekwon Okigbo is a Starfleet officer from the old school of Starfleet Academy. Raekwon has faced up to the Klingons and Romulans many times. Ever the diplomat, Raekwon has been at the forefront of Starfleet diplomatic talks on more than one occasion - this has contributed to him still being an active starship commander, rather than a flag officer behind a desk.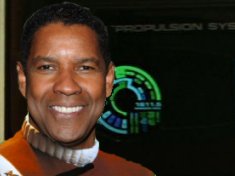 Career

Raekwon Okigbo graduated from Starfleet Academy in the class of 2275. Raekwon Okigbo served as Executive Officer on the Constellation class U.S.S. Montrose [2298 - 2305] before transferring to Excelsior class U.S.S. Hood as Commanding Officer. Okigbo has served with distinction on one five-year mission on the Hood and is now commanding for another. Raekwon is highly decorated and is expected to become a flag officer after his current assignment ends.

Author's Notes:

Who but Denzel Washington could portray the commanding officer of the Hood? Okigbo is the first transitional stage from the 'cowboy diplomacy' of Kirk towards the diplomatic stance of Picard. Another actor who shares my birthday too.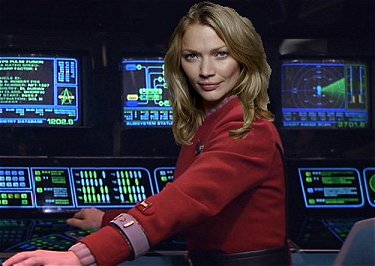 Judith Peers.
Rank: Lieutenant Commander
Service Number: TQ 794-2274d
Assignment: NCC-1976, USS Sheffield, Miranda class.
Position: Chief Science Officer.
Security Clearance: Level 7.
Born: September 12th 2274, Markinch, Fife, Scotland.
Race: Human female.
Marital Status: Divorced.

Description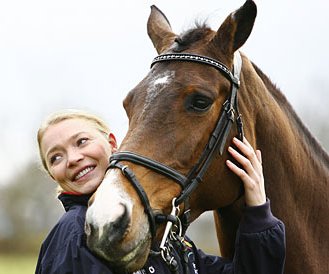 Fast-track cadet of the Class of '96. Judith is a very tall cadet for a female human, standing over 1.87 metres tall in her bare feet. Peers is the daughter of Donald and Heather Peers. A sporting cadet, Judith Peers excelled at polo, fencing and archery. Judith was educated at Markinch Primary School and Glenrothes High School. Through her education, Judith acquired a taste for fine dining and wine. Her most notable friends at Starfleet Academy were Faith and Lisa as well as a mutual friendship with Helen Marshall. Judith Peers had a twelve-month romantic liaison with Nathaniel Hawkins whilst in her first year at the Academy. Peers failed until 2302 to realise her true potential. Peers has finally found herself a stable niche. Her previous relationships having taken precedence over her career [2296-04].

It is thought by some that the application of Peers to Starfleet Academy was an act of rebellion against her parents. Her specialised topics at the academy were Idionomothetics, clinical psychology, sports psychology, stress and post-traunatic stress. One of Peers' closest friendships was with Helen Marshall, both having a similar family and educational upbringing as well as expertise in the medical/clinical side of psychology.

Career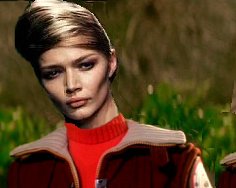 Despite not graduating as high in the class as expected, Peers still finished a respectable 24th in the Class of `96. Her first assignment was to the Nirvana Rehabilitation Colony. It was there that Peers displayed her abilities at criminal and clinical psychology. There was one patient in particular that Peers was more effective with. This was a former Starfleet officer who had been convicted on circumstantial evidence of murdering his away team. This officer was a mystery in so far as what was going on with his mind. Peers was the only person he really opened up to. It was whilst Peers was at Nirvana that she met her future partner. Together, they worked on some of the harder cases that Nirvana Colony had to offer, resulting in many cases being turned around that some thought would never be resolved.

This success brought Peers secondment to the secure wing followed, where the more dangerous mentally challenged are kept. Peers found that this was a far harder assignment than Nirvana's standard santuary. In the rest of the colony, there was hope for recovery. In the secure wing there was little. Despite having tirelessly to make an impression, Peers headed back to Nirvana Colony and the husband that she had left behind.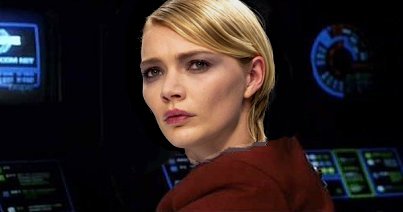 Peers had married a young Starfleet officer shortly after her graduation in 2298. This had the dual effect of slowing her career down and making her reconsider where her future lay. Most of this married period remains off-the-record and Peers is reluctant to talk about it. It is unknown if the relationship ended up in a child or not. What is known is that by 2304 the relationship was over and Peers applied for a divorce. Having restricted her career to solar system-based assignments for so long, Peers was ready to resume her career full-swing. It wasn't long after an assignment to U.S.S. Noam Chomsky, Oberth class [2304 - 6], that Lieutenant Peers was selected as Behavioural Sciences Officer for U.S.S. Sheffield. A posting she accepted to rebuild her career, regardless of the personal 'complications' that resided on the ship.

Lieutenant Peers was assigned to the U.S.S. Sheffield in 2322, despite her ex-boyfriend being the First Officer. Peers was reluctant at first to accept the assignment - too many old memories - but the mission was compelling, as was a chance to finally move on whith her life and get away from the ghosts of her past. Peers soon settled down, glad to be away from the reminders of the past and out at the frontier - where she was supposed to be.

From 2322 Lieutenant Peers worked tirelessly at her role as deputy head of the department. Peers had a point to prove and put her history with Nathaniel Hawkins to one side to make her point. The relationship between Peers and Hawkins was 'frosty but tolerable'. During this period, Peers began to develop a relationship with the Chief Engineer, Sean O'Reilly. This caused 'complications' with Nathaniel Hawkins, who was a close friend of the CEO, especially towards the last year of the mission 2306 - 2311.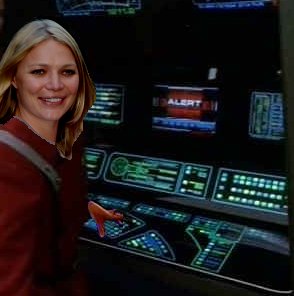 At the end of the mission, on the recommendation of both her Commanding Officer and the XO, Judith Peers was promoted to Lieutenant Commander and promoted to the prestigious role of Head of Social and Behavioural Sciences - a role vital in the mission of the Sheffield from 2322. This promotion and the raising in role for Peers caused terminal damage to the fledgling relationship with Sean O'Reilly, who was passed over for promotion. This has led to the relationship into a spiral of decline and it can only be a matter of time before one or the other calls the relationship off.

In 2322 there was a possible thaw in her relations with Nathaniel Hawkins, now the Commanding Officer of U.S.S. Sheffield. Her rank meant that technically Peers was fourth highest ranking officer on the ship. Level three was Peers own kingdom, occasionally visited by Hawkins when he offered his help. In that first year of the second five-year mission, Peers had all but left behind her experiences at Nirvana Rehabilitation Colony. It was then that an inviation to return was received, asked by the most unexpected source.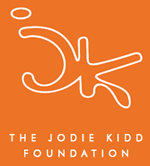 Author's Notes:

Scottish model and polo-player Jodie Kidd was the obvious choice to be cast as Judith Peers as she is fairly close to one of the principle role models for the original character. Peers is designed to be the foil for Hawkins and the character for him to react against. As a tribute to Miss Kidd, I have chosen for Judith to ride and to play polo. Changing the image to Jodie Kidd protects the innocent.

Jodie Kidd set up her own foundation in 2007 to support the charities which are close to her heart. Please click on the logo on the right to visit her website.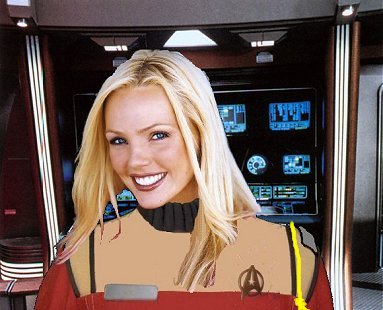 Yeoman Jana Petursdottir.
Rank: Chief Petty Officer
Service Number: DE 555-6144f
Assignment: NCC-1976, USS Sheffield, Miranda class.
Position: Captain's Yeoman.
Security Clearance: Level 4.
Born: July 17th 2285, Husavik, Iceland, Earth.
Race: Human female.
Marital Status: Separated.

Family


Father- Petur Sveinsson
Mother- Yrsa Sigmundsdottir

Career


2305 Graduated Starfleet Academy
2305 - 07 U.S.S. Cardinal, Akula class
2307 - 09 U.S.S. Ballard, Oberth class
2309 - 11 U.S.S. Coventry, Miranda class
2312 - 17 U.S.S. Gibraltar, Constellation class
2318 - 20 Starbase 38
2320 - U.S.S. Sheffield, Miranda class as Captain's Yeoman.

Description

Jana graduated as part of the Class of 2305. Petursdottir developed a reputation as a wildchild cadet and a minx. Jana narrowly avoided eviction from the course at the Academy from her ceaseless late arrivals and lack of attention in classes. The truth was, Jana was a sharp student and learned faster than most. She had the skills, just not the correct attitude.

Much of Petursdottir's past and her interactions outside of the Academy at this time is unknown. Petursdottir, very much lives for the moment and lives for now. What was yesterday is history and what is tomorrow will wait. An only child, no one recalls Jana's parents attending the Academy on parent's days until the Graduation Day itself.

Jana was assigned to minor administrative positions on various science stations, communications stations and starbases across the Federation. Jana rarely stayed at an assignment for more than a year, often with the ghosts of her past resurfacing. It was almost as if Jana was running away from something, or someone. Eventually Petty Officer Petursdottir was assigned to starships including the Cardinal, Ballard and Coventry. It was at the behest of Lieutenant Commander Ilani that Petursdottir was promoted and assigned as Captain's Yeoman in 2322.

Ship's Yeoman from Iceland. Petursdottir is a mistress of administration and has developed a good reputation as a Captain's right-hand woman. Jana Petursdottir is more organised than most of the officers in Starfleet, often not requiring her PADD to operate. Jana is trying to bury her past misdeanours, but they have a knack of surfacing at the worst times. She certainly knows how to let her hair down and can often be seen in bars socialising - the heart of any good party. Petursdottir has spent the last five years building herself up from her "wild" youth, with varying degrees of success.

For just how long her past will remain the past, and what the mysterious past interactions were, remains to be seen. If Jana is on the run, who is it from? And for how long can she remain unseen?

Tal Reno


Rank: Crewman
Service Number: PS 254-0021p
Assignment: NCC-1976, USS Sheffield, Miranda class.
Position: Psychology Specialist [Psycho-profiling].
Security Clearance: Level 2.
Born: May 9th, 2289, Rixx, Betazed.
Race: Betazoid male.
Marital Status: Single.

Tal Reno is a Betazoid NCO assigned to the Idionomothetics laboratory. He has not been promoted in all the time since graduation in 2294. Reno barely passed his entrance test to the Academy and scraped his way through every subsequent exam. Crewman Reno's problem is that he is a thrillseeker and a strong telempath. Tal Reno likes to party at nightclubs until the early hours of the morning, his psionic skills allowing him to get a high from the strong emotional 'buzz' of the people around him. Reno is addicted to this feeling and it has effected his career, despite any efforts he has made to counter it.

Tal Reno has a vast knowledge of the best bars and clubs both within the Federation and without. Reno is very knowledgeable on alcoholic beverages and cocktails, should you want to know what the latest trend in fashion or dance craze, Reno is your man. Tal Reno is spared from dismissal from Starfleet by virtue that when he actually applies himself to his job then his natural talents make him unnaturally good. Reno is very much a leave-it-to-the-last-minute person, but enough people have seen potential in him for his assignment to the Sheffield for her launch.



Savar.
Rank: Lieutenant
Service Number: SV 721-1679x
Assignment: NCC-1976, USS Sheffield, Miranda class.
Position: Chief Nursing Officer.
Security Clearance: Level 4.
Born: January 25th 2265, Vulcana Regar Region.
Race: Vulcan male.
Marital Status: Single.

Description

Savar was born on Vulcan, in the Vulcana Regar Region on January 25th 2265, the third of three children. His father, Sorek, is a medical Doctor currently working at the Vulcan Institute of Sciences. His mother, T'Ral, is a scientist specialising in molecular biology. His older sister, Sakarra is a Commander and Chief Medical Officer aboard the U.S.S. Odyssey. His older brother, Tovek was a diplomatic aide who was killed during a Klingon raid on Starbase 17 in 2283.

Savar, like most Vulcans, takes curiosity to its extreme. While he would never admit it, he is driven by the overwhelming desire to expand his knowledge of the cosmos, a desire which often takes second place to his logic. However, Savar takes his duties seriously, and would never allow his own desires to interfere with the proper execution of his duties. Above all, Savar believes all life is sacred, and is a devout pacifist. While he had little choice but to take the required Starfleet courses in self-defense, Savar dislikes carrying weapons of any type. He pointedly chose to specialise in a defensive only martial art during his training. When required to carry or use a phaser, Savar will do so, but he will never use a weapon against any lifeform on a lethal setting. Recognising the possibility that he may some day be required to use lethal force in the performance of his duty, or in the defense of another being, Savar has honed his psionic abilities in such a way as to provide a possible alternative. In addition to being an expert in the application of the Vulcan nerve pinch, Savar is able to psionically engage an opponent, confusing them with false images, or even 'stunning' them.

Career

Savar graduated Starfleet Academy in 2291 at the age of 26. Prior to entering the Academy he completed a degree in exobiology. As a cadet, he specialised a Science Officer (Life Sciences division), also taking time to train as an emergency field medic, and taking several courses in command training.

Upon graduation, Savar was assigned to Starbase 12 as a junior science officer. After two years studying the initial survey reports filed by other people, Savar was finally assigned to the ageing scout vessel, U.S.S. Columbia. Savar served aboard the Columbia for four years, during which time he conducted numerous planetary surveys, including a study of the unique ecology of Xythis IV.

Following promotion to Lieutenant (senior grade) Savar was assigned to the U.S.S. Constellation as Chief Science Officer. After three years in the post, he accepted his current assignment to the U.S.S. Sheffield.

In addition to his normal scientific duties, Savar is involved in an ongoing research project aboard the Sheffield, working closely with Doctor A'Ochak. A strong telepath, Savar is decidedly uncomfortable with human emotionalism, and finds A'Ochak's calm Grazerite mind a relaxing alternative to his dealings with most of the other non-Vulcan members of Sheffield's crew.

Overall, Savar is a dedicated Officer, with a distinguished service record.

Savar is the creation of my good friend Nick Cook.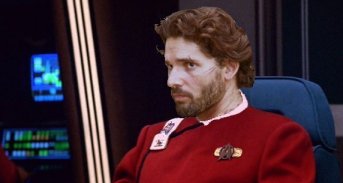 Darrien Scartine
Rank: Commander
Service Number: CF 568-2895c
Assignment: NCC-1861 - U.S.S. Courageous.
Position: Commanding Officer.
Security Clearance: Level 8.
Born: 2263, Logan City, Terra Nova.
Race: Human male.
Marital Status: Single.

Description

Born on Stardate 856.7 in Logan City on the Federation colony of Terra Nova, Earth's first colony. Scartines parents moved colonies on a fairly frequent basis, with Scartine's mother being a prominent politician and diplomat in the United Federation of Planets. In 2272 Scartine found himself growing up on the far away colony of Sherman's Planet, sharing the planet with klingons during some of the most tense times between the two governments.

Other worlds that Darrien has visited, amongst others, are: Trillius Prime [Trill], Vulcan, Andoria, Betazed and Risa. From all of these travels, Scartine gained an appreciation for other cultures and foods and believes the best way to understand a culture is to immerse oneself in the culture. From this philosophy, Scartine is a very 'hands on' Starfleet officer, not wanting to be in the sidelines.

Darrien Scartine is well-travelled and has a good grasp of the 'Great Game'-style politics that are currently playing out between the three major governments of the Beta Quadrant. Having seen some of the furthest flung colonies of the Federation, Scartine wants to improve the Federation and enhance the quality of life for the frontier colonists as well as those on Earth and the core worlds.

Darrien Scartine is a career officer and his assignment to the Courageous is the next logical step in his career. He is still happy to have made this move in the hope of commanding a larger vessel soon. Scartine hand picked the Vulcan Lieutenant Commander V'lana as his First Officer. Scartine likes winter sports and spends a lot of his time on Andoria performing cross country skiing and shooting. Scartine is from the Terra Nova colony and is a dedicated, by-the-book officer with a distinguished career thus far.

Career

Commander Scartine started his career as a physicist specialising in power generation theory at Starbase 14. Scartine moved on to be command division helmsman aboard the U.S.S. Atlantis, Miranda class [NCC 1865] where he quickly earned a good reputation. Lieutenant Scartine was then promoted to Lieutenant Commander and given comand of Saladin class U.S.S. Electra [NCC 1655] which he commanded from stardate 11309.5

Darrien Scartine has shown himself to be an accomplished leader and tactician. This has helped the U.S.S. Electra on more than one occasion. This focus and commitment earned Scartine a promotion to Captain and assignment to U.S.S. Courageous in 2312. The Courageous was without Commading Officer or X.O., so Scartine had free reign to choose his Number One.

Author's Notes:

Thankyou to my good friend Mark for the Commanding Officer for the Courageous. I've been trying to get my characters away from all being from Earth, and Darrien Scartine has been one of the re-writes to get some people from the many colonies of the Federation. Eric Bana was my inspired choice for the image of Darrien Scartine after seeing him as Hector in Troy.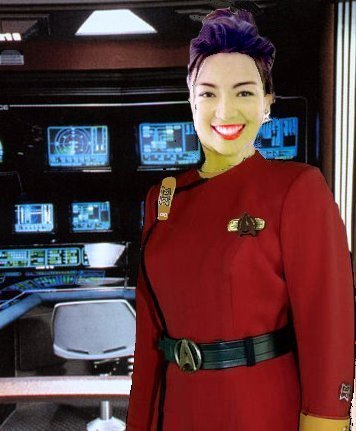 S'sana
Rank: Lieutenant Commander
Service Number: TQ 792-2123g
Assignment: NCC-1976, USS Sheffield, Miranda class.
Position: Operations and Second Officer.
Security Clearance: Level 4.
Born: March 27th 2279, Paradise City, Nimbus III.
Race: Mixed Parentage Female.
Marital Status: Divorced.

Family:

Father – Unknown. Mother was raped around late 2268. Author's note - assailant was Romulan, drunk from Romulan ale to drown his sorrow at being exiled to the dead-end, backwater dustbowl of Nimbus III.

Mother – S'zama, Born 2240. Came to Nimbus III colony when it was first established in 2268.

Author's Note: Unknown fact: Husband - Sherix, Romulan born 11.05.2267 Location unknown. Marriage from 2286 - 2287. Marriage ended due to mistrust of husband's nefarious Romulan nature. Husband departed 2287 to whereabouts unknown. S'sana lived her married life away from the main population centre of Paradise City, so her marriage was little known of.

History:

Operations officer aboard the U.S.S. Sheffield, as well as the Second Officer. Born in the desert city of Paradise City as a result of her mother being raped. S'sana had a tough upbringing on the neglected colony until she was able to escape to the Federation in 2287 after the Enterprise-A hostage involvement. S'sana gained her freedom from Nimbus III by joining the U.S.S. Achilles, NCC 983, Saladin class. Here she met the legendary Commander Michael Stirling, the Executive Officer, who heard about her plight and sponsored her application to Starfleet Academy. S'sana joined Starfleet Academy at the age of 19 and aced the entrance exams. S'sana has kept her family business private and has made little mention of her abortive marriage, keeping a career in Starfleet to the forefront of her mind.

S'sana graduated fifth in the class of 2292 - the same class as Jana Petursdottir and Jana Petursdottir. Ensign S'sana was appointed to the U.S.S. Pathfinder [NCC 5701, Oberth class] for her first mission - a three year tour as science officer to the B'relki system. For a year after the U.S.S. Pathfinder completed her mission, Lieutenant [j.g] S'sana was assigned to the U.S.S. Uganda [NCC 720, Oberth class] for advanced training. After this mission was over, Lieutenant S'Sana was transferred to the U.S.S. Mars [NCC 192, Daedalus class] as sciences careers officer, S'sana acted as left hand woman to Captain Michael Stirling and impressed him with her hardworking efficiency and comprehensive reports.

Transferred as a Lieutenant from the Training Ship U.S.S. Mars in 2298 to U.S.S. Albion. She used to give the Fast-track officers their career advice. Born on the planet Nimbus III in the Neutral Zone, S'sana is of mixed genetic heritage, "is that Vulcan I see in you, or Romulan?". S'sana could be described quite simply as "exotic". S'Sana has her career in mind, carefully using her experience from the legendary Captain "Achilles" Stirling. S'sana has seen some "interesting" incidents whilst on the Sheffield and has received at least one commendation and promotion for her outstanding work. Lt. Cmdr. S'sana specialises in genetics and biological sciences. She recently passed up a chance to go on the U.S.S. Valkyrie for a viral/genetic study mission. S'sana sees too many opportunities on the Sheffield to transfer quite yet.

Lieutenant Commander S'sana comes across as a by-the-book, straight-laced Starfleet officer, but this belies a mischievious side that few are privy to see. S'sana has taken inspiration from her grandfather, the driving force against her marriage and proponent for her to escape Nimbus III to a better life, to drive her onwards towards the centre command seat of her own starship one day. Lieutenant Commander S'sana is a competent officer with a distinguished record.



Extra special thank you to Indy for fleshing out the Operations Officer of the Sheffield.



Author's Note:

Ming-Na was the obvious choice for the image of S'sana. She has the right exotic look and the right eyes for the role. Ming-Na is famous for her roles in Agents of SHIELD, ER and as the voice of Dr Aki is Final Fantasy: The Spirits Within.

Alexander Stavin.


Rank: Chief Petty Officer
Service Number: TA 774-1112s
Assignment: NCC-1976, USS Sheffield, Miranda class.
Position: Departmental Co-ordinator (Security Operations).
Security Clearance: Level 4.
Born: January 8th 2290, Archangel, Russia, Earth.
Race: Human male.
Marital Status: Single.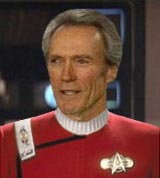 Michael "Achilles" Stirling.
Rank: Captain
Service Number: CA 939-8998u
Assignment: NCC-6212, USS Albion, Excelsior class [variant].
Position: Commanding Officer.
Security Clearance: Level 9.
Born: 2230, Chicago, Earth.
Race: Human male.
Marital Status: Divorced.

A living legend. The late-2290s answer to James T. Kirk. Stirling is the most senior captain in the Starfleet. Stirling's career can be traced back over 50 years and he has been in the thick of it for most of those years. Stirling was born on May 31st 2230. Stirling graduated as a crewman aged 19 in 2249. Stirling's first assignment was the U.S.S. Daedalus. Stirling made his way up the NCO ranks until in 2267 he returned to Starfleet Academy to take the tests necessary to earn his commission as an ensign. Stirling made his name in the late 2280s as being the First Officer of the U.S.S. Achilles, NCC 983, Saladin class. Stirling possesses a somewhat abrasive, direct manner and isn't known for mincing his words. An inspiring commanding officer and a man who cares for his crew, if not giving away his caring nature directly. Captain Stirling is currently commanding officer U.S.S. Albion, on it's maiden voyage.

Captain Stirling is based on the character of Gunnery Sergeant Thomas Highway from the film ' Heartbreak Ridge'. Stirling has the same abrasive nature, which has kept him from being promoted further, but his raw talent at his job has gotten him friends in high places, and a great deal of respect. He is tolerated by the higher ranks for this reason. Stirling's NCO career is a tip of the hat to the character of Highway, and the first assignment on the Daedalus is a tribute to 'Space Cowboys', a truly memorable film.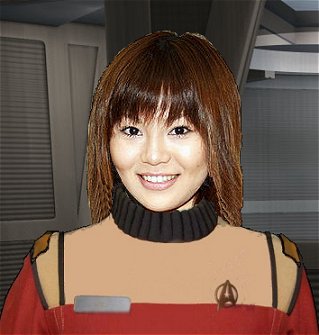 Tamiko "Tammy" Suzuki.
Rank: Chief Petty Officer
Service Number: CP 601-9987f
Assignment: NCC-1976, USS Sheffield, Miranda class.
Position: Computer and IT specialist.
Security Clearance: Level 2.
Born: August 1st 2288, Nagasaki, Japan, Earth.
Race: Human female.
Marital Status: Single.

Tamiko is an expert in her field, finding it easier to relate to computers than to people. She has a string of failed relationships behind her, having put her career first. Tamiko spent time at the Daystrom Institute and later moved to starships, knowing this is where the first-rate systems are tested in the field.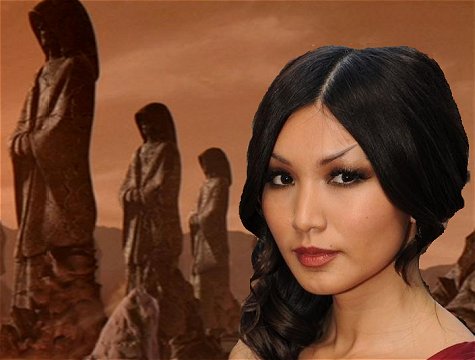 T'daen.
Rank: Lieutenant Commander
Service Number: TQ 793-4993f
Assignment: NCC-1976, USS Sheffield, Miranda class.
Position: Mission Operations Officer.
Security Clearance: Level 4.
Born: July 25th 2271, Vulcan.
Race: Vulcan female.
Marital Status: Single.

T'daen background and the Academy:

T'daen was in the same class at Starfleet Academy as Hawkins, studing behavioural and social sciences. T'daen was fascinated by the comparison between other races, and their attitudes towards emotions and behaviours, compared to her own people. T'daen had to tread a fine line studying such a topic as the Vulcan people forbid exploration into emotionality. She was inspired by the example of Saavik to join Starfleet to earn a commission.

T'daen and Hawkins talked a lot about her culture and what it means to be a Vulcan. Hawkins would compare Vulcan philosophy to Betazoid, Aenar and Deltan and they would both enjoy the debate - although T'daen may not have worded it such. When Hawkins went to Vulcan and found the planet to be 'like a monastery', T'daen decided the logical, final move to show Hawkins what it was like to be a Vulcan was to perform a mind-meld with him. The experience of melding with a human gave T'daen an insight into the 'emotional tempest' that all humans ride. This gave her a better perspective of what it is to be human. This forged a friendship that would last from the Academy and into their commissions.

Junior officer:

T'daen started her career on science vessels, before re-joining her Academy friend Hawkins on the Constellation class U.S.S. Montrose. The two officers were assigned to study the races in the Beta Quadrant including Klingons and Gorn. The team worked on the new races and helped to fill in the blanks for the Memory Alpha files. As Hawkins began to push himself upwards towards Operations Officer, so T'daen remained in the Social Sciences department whilst her friend was re-assigned to other starships.

After the Montrose, T'daen served aboard the Vulcan science vessel V'tana on secondment, before joining the U.S.S. as Chief Science Officer.

Senior Officer and the Sheffield:

In early 2322, newly-minted Captain Nathaniel Hawkins was looking to assemble a specialist team for his mission to both the Klingon Empire and its neighbours. His mind went straight to his colleague T'daen and requested her assignent to the Sheffield as Mission Operations Officer. Lieutenant Commander T'daen took up this ofer and joined Hawkins for their mission.

Author's Notes:

T'daen is the latest incarnation of one of my older characters, Taedaen. She is designed to be a counterpoint to Commander Ilani and Vheriel, creating the Sheffield's own equivalent to the Kirk-Spock-Mcoy trio. I was looking for an image to go with the character when I stumbled upon Gemma Chan and her fantastic performance in Channel 4 series Humans. In this she plays an android and displays the pseudo-emotions that a complex android may be programmed to display. This gelled with the 'stoicism' that Vulcans display, arbeit with less emotion and more restriant, rather then unemotional faking emotions. Mission Operations Officer means T'daen is in overall command of matters pertaining to the mission itself, answering to the XO, Ops Officer and Captain. This has the potential for friction with the Chief Science Officer, Peers, who may feel like she is more a reference than in any command of the mission.

T'pala.


Rank: Crewman [1st class]
Service Number: VX 785-4263x
Assignment: NCC-1976, USS Sheffield, Miranda class.
Position: Idionomothetics Algorhythmic Analyst.
Security Clearance: Level 4.
Born: October 13th 2254, P'lora.
Race: Vulcan female.
Marital Status: Married.

T'pala, is a Vulcan exchange scientist from the Vulcan Science Institute. T'Pala appears to be in her 30s, although she is more than twice this age. T'pala grew up on the Vulcan colony of P'lora. She is married to Sarel and is the mother of two children and grandmother to two grandchildren as well.

T'pala entered the Vulcan Science Academy in her 30s, specialising in mathematics and biological algorythms. T'pala waited until after bringing up her children before she joined the Academy. T'pala spent time meditating out in the Forge. This meditation provided insight into her future direction and inspired her application to the Academy.

On the U.S.S. Sheffield, T'pala has been given a brevit rank of Crewman 1st class to fit in with the command structure. Lt Commander Judith Peers brought her aboard to perform taks that Peers herself used to do when Hawkins was the department head.

Hawkins has on at least one ocasion wondered whether Peers was going to mould the department more into her own liking. Peers' answer is very much along the lines of "It worked fine for you, why change it so quickly? I'll only have to get new-starts up to speed."

T'pala is one of the new people that has been brought into the social sciences department.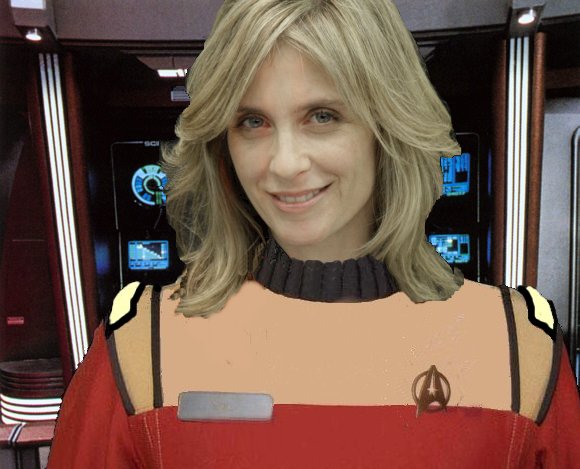 Leena Tamkivi.
Rank: Senior Chief Petty Officer
Service Number: CC 638-9844g
Assignment: NCC-1976, USS Sheffield, Miranda class.
Position: Intelligence specialist.
Security Clearance: Level 5.
Born: 2262, Haapsalu, Estonia, Earth.
Race: Human female.
Marital Status: Single.

Career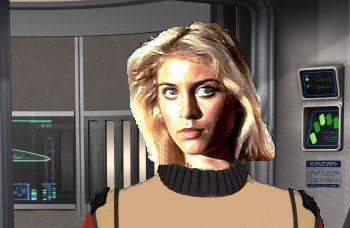 2282 Graduated Starfleet Academy
2282 - 83 Classified science station
2283 - 85 U.S.S. Newton, Oberth class
2285 U.S.S. Grissom (Unable to join due to viral infection - starship destroyed).
2285 - 86 Compassionate leave
2286 - 91 U.S.S. Hathaway, Constellation class
2292 - 95 U.S.S. Emden, Miranda class
2296 - 2321 classified missions. File sealed.
2222 - U.S.S. Sheffield SCPO Intelligence specialist.

Personal

Leena was twin sister to Liisi Tamkivi. Both were ambitious and competative gymnasts and athletes at school and Starfleet Academy enlisted programme. Neither liked coming second, especially to the other twin. Both graduated in 2282 and requested assignments together. After contracting an infectious virus during a geological landing party in 2285, Leena was unable to join the Grissom mission. Leena had a period of compassionate leave; no one but a twin can understand the loss of a twin on the survivor. After a period of counselling and rest, Leena rejoined active Starfleet career for a five-year mission aboard USS Hathaway. On the recommendation of Captain Pierce, Chief Petty Officer Tamkivi joined Miranda class U.S.S. Emden. After the Emden, Tamkivi was assigned for missions that are currently classified and sealed by Starfleet Intelligence. Leena Tamkivi joined U.S.S. Sheffield in 2312.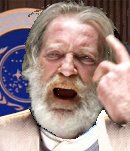 St John Talbot
Assignment: Nimbus III.
Position: Federation envoy to Nimbus III [2267 - 2312].
Security Clearance: Level 10.
Born: 29 July 2241, Manchester, England, Earth.
Race: Human male.
Marital Status: Single.

Description:

St John Talbot is a seventy year old diplomat from Earth. For the last 45 years, Talbot has been the Federation representative - later Ambassador - to the Planet of Galactic peace, Nimbus III. Talbot is now past his prime, with his best years [2287 - 2300] behind him, Talbot is now the galactic-weary ambassador who wants to retire. With fifty years in the diplomatic corps, Talbot has done his bit for king and country. Talbot has a beard now and trademark unkept hair. St John has dealt with more races on a daily basis - Federation and especially non-Federation - than any other diplomat. Talbot is just wanting to reap the rewards of his hard work on Nimbus III, gardening and relaxing at his cottage on the outskirts of Paradise City.

Career notes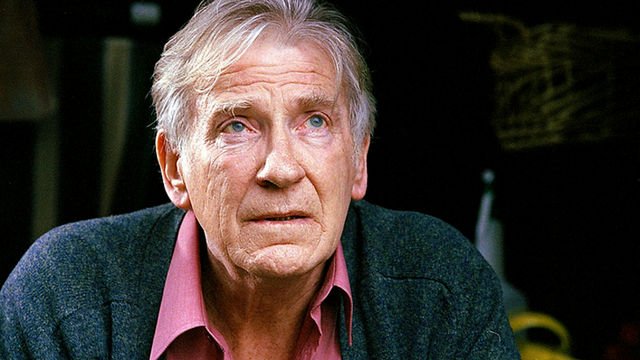 Talbot was born to wealthy parents and led a charmed and precocious life. Talbot was wealthy, intelligent, gifted and handsome. Born in Didsbury, a district in Manchester on Earth, Talbot used to enjoy the scenery of the nearby Peak District. He attended Eton College (which was founded by King Henry VI in 1440) and Cambridge University, where he studied politics and international studies. He later graduated with a first class honours degree. Talbot entered the Federation Diplomatic Service with an excellent score.

Talbot started his career as a diplomat in 2260. He had successfully handled a half a dozen hostage negotiations and eventually negotiated a treaty between Capella and Xenar, preventing an interstellar war. He earned the Surakian Peace Prize from this and an assignment to Andoria where he worked closely with the female governor of Laikan. Talbot was known as one of the most, if not the most respected diplomats in the Federation service. "Not a drop of blood shed" were the words he lived by.

Laikan, the Andorian capital city, had a large population disaffected immigrants. Most of them were miners from the neighbouring system of Charulh who had lived on Andoria for seven generations. The Andorians were not very hospitable to off-worlders which caused some friction between the Charulhans and the Andorians. In 2280 a small group of Charulhans attempted to force the Andorian govrnment to allow them to have a voice by taking several influential citizens hostage. This included the Laikan's governor's son. Talbot, believing himself to be in the top of his form, refused any cultural advisers. He sent a message intended to defuse the situation. However, Talbot's limited knowledge of Charulhan culture meant the message had the opposite effect and insulted the hostage takers. The immediate response was to kill the Governor's only son and dump his body on the road outside of Talbot's office. The human diplomat was the first to find the body, and the first to inform the mother. It was Talbot's first failure.

In the wake of the failed Andorian mission, Talbot found that he had fallen out of favour within the Federation. Broken by his experiences, he began drinking heavily, and was unhappy with his new assignment to Nimbus III. Talbot preferred to drink Romulan ale because it was strong; it would help him forget his mistakes on Andoria. It also allowed him to kill himself slowly since he was too much of a coward to kill himself outright.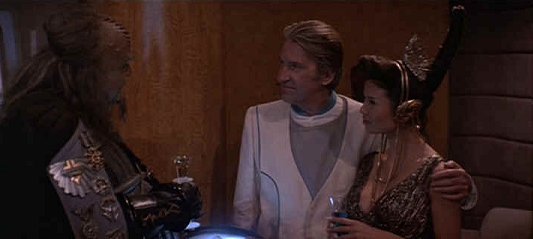 Talbot was amongst the diplomats held hostage in the crisis of 2287, however, the fallout from the hostage crisis was that Nimbus III was placed firmly back on the political map. All three sponsoring governments were embarrassed politically by the plight of the colony and pledged concerted aid missions to the colony. St John and the other two diplomats, Korrd and Caithlin Dar, found themselves having to conduct a relief operation to regenerate the ecosystem of the planet and reverse the ravages of ten years of drought.

On the back of the Sybok Incident, Talbot looked to use the embarrassment of the three sponsoring governments to finally rebuild Nimbus III into the colony that was originally envisioned. Through a renewed connection with Admiral Emma Roberts, Talbot was able to secure much-needed ecological reviving technology and aid. The Federation President, Hiram Roth, made an impassioned plea to the Federation Council to back a plan to revive the colony. This was done both for good public relations as well as to build a legacy of peace for his presidency.

The Klingon and Romulan Empires, not wanting to be outdone in the propaganda stakes, both pledged their own efforts to restore the colony. Talbot had his work cut out, working with the other two representatives to co-ordinate the program of demolishing the old ramshackle town and building a modern Paradise City with three main sectors, one for each of the sponsoring nations. The rivers of Gihon, Batlh and Tiber were all inspired by Talbot's vision for the city.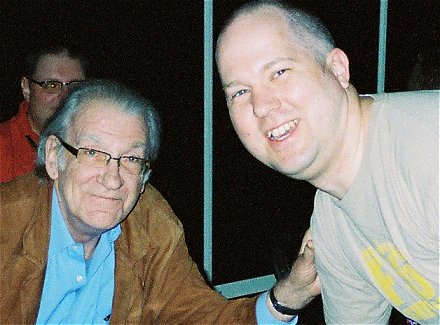 Talbot put forward a proposal for the expansion and improvement of Paradise City, and helped to push forward the building of the Federation city of New Terra. New Terra was the subject of a terrorist atrocity early in the 24th Century, but Talbot helped to rally the governments around rebuilding the city again. Now in his retirement, Talbot takes the chance to enjoy the fruits of his labours on Nimbus III, whilst also passing on sage advice to his successor in the role.

Authors's note: I finally got to meet the legendary David Warner at the Greatest Show in the Galaxy at Peterborough Arena, Sunday 13th May. Mr Warner was friendly and more than happy to humour this fan that admitted he's been writing about one of the characters he played. He corrected my pronounciation of 'St John' as 'SinT Jin'. I'll remember that. The warm greeting from Mr Warner also has shaped the relationship between Hawkins and Talbot. A life-memory.

For Talbot I have added a back-history in Manchester to match actor David Warner, I have sent him to (arguably) the best schools and university and fleshed out his previous life. Didsbury is on the wealthy stockbroker belt in Manchester.

The Hiram Roth and Admiral Roberts sponsorship of revival is also a new addition by me. Roberts commanded the Hood (NCC-1703) in 2280 when it dropped off Talbot at Nimbus III, Roth is acting in the PR-conscious, legacy-needing manner of a President.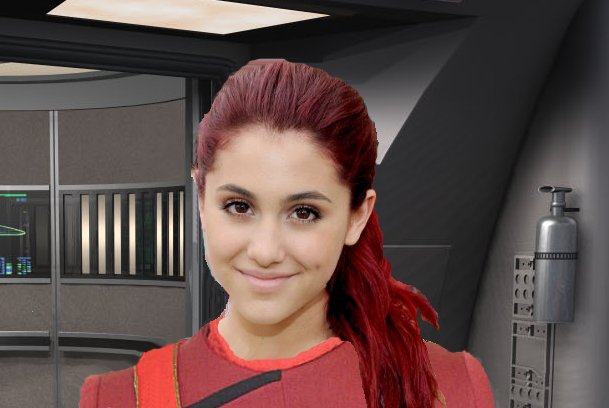 Vanessa 'Nessa' Tolis.
Rank: Cadet [4th Class]
Service Number: HL 993-4156q
Assignment: NCC-1976, USS Sheffield, Miranda class.
Position: Industrial Historian.
Security Clearance: Level 9.
Born: June 26th 2303, New Holland Colony, under Starbase 12, near the Maelstrom Phenomenon.
Race: Human female.
Marital Status: Single.

Vanessa Tolis - who prefers to be called 'Nessa - is from the Federation colony of New Holland. Nessa's Mother is an engineer and her father is an archeologist. The inspiration of the two parents has seen Nessa join Starfleet and become a hstorian specialising in Industrial Archeology.

Cadet Tolis accompanied her father on many expeditions, learning about other cultures and their languages and beliefs. When her parents seperated three years ago, it was with her father that Nessa decided to go. Nessa still has contact with her mother and still has a family home at New Holland Colony.

Nessa Tolis is confident at her skills as a cadet, almost too confident, with the raw ambition of a young woman in her early 20s. Lacking in the practical side of cadet training, Lieutenant Commander Ilani saw the potential in Nessa and had her assigned to U.S.S. Sheffield for her final year as a Starfleet Academy cadet.

This upcoming mission should either make or break the career of Nessa Tolis. This will be her chance to either prove that she is officer material, and live up to the expectations of her parents, or to fail in the goals she set herself...

Author's Notes:

New Holland colony, and its relevant position with Starbase 12 and the Maelstrom phenomenon, plus the accompanying history and data, are taken from Activision's PC game "Bridge Commander".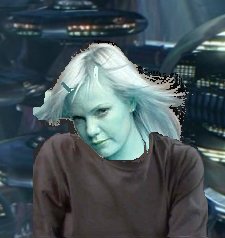 Vheriel.
Rank: Lieutenant
Service Number: AE 648-6482l
Assignment: NCC-1976 USS Sheffield, Miranda class.
Position: Social Sciences Officer.
Security Clearance: Level 7.
Born: November 20th 2276, Aenar City, Andor.
Race: Aenar female.
Marital Status: Single.


Description:

One of the first Aenar to join Starfleet. Certainly one of the only ones currently serving. Vheriel is one of the best psychologists in the Starfleet. Her strong belief in pacifism prevents her from serving on a starship in any role other than science or medicine, but this has not stopped Vheriel from serving in many of the best scientific research facilities in the Federation.

Like all Aenar, Vheriel is a powerful telepath. The power of Aenar psionics dwarfs that even of the Vulcans. Strict ethics prevent an Aenar from reading the minds of those around them. The limits of Aenar abilities are, even now, shrouded in mystery. Aenar are able to create realistic experiences in the minds of others: false realities that are indistinguishable from reality. This can be used as a defence mechanism - indeed it was for the original defence of their home city on Andor. Aenar can also see through the eyes of those around them, meaning their blindness isn't so blind after all.

Nathaniel Hawkins persuaded Vheriel to join the U.S.S. Sheffield as part of the crew and Vheriel joined with the Social Sciences team. Vheriel was at Starfleet Academy 2294 - 2298.

Career:

Vheriel served on the Starfleet psychological research station PSI 4. This base is classified and the location is kept secret. Vheriel is the deputy head of the base. Professor Creed was the Base Commander.

Author's Notes: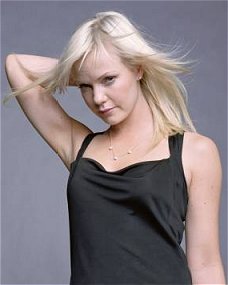 As soon as I saw the Aenar in Star Trek: Enterprise, my mind began to think over the possibilities. It wasn't until I saw Laura Harris in Total Recall 2070 episode 'Nothing Like the Real Thing' that I found a visual representation for Vheriel. I saw her very much as the eternal-pixie in appearance, with a face that looked ready for mischief. Her demeanour would throw this first impression away, partly. Vheriel would certainly be full of life, and her blindness wouldn't be as much of an incumberance as it would be for a non psionic race. On the other hand, Vheriel would be wise beyond her years. Partly through her education, on the other hand partly from her ability to sense the thoughts of those around her.

A defining trait that I knew was important from the Enterprise episode was that of pacifism. Vheriel's sole main reason for not serving aboard the Sheffield when her Academy friend Hawkins called in on her was that her pacifism would not let her serve on an armed starship. It didn't make a difference that the weapons were purely for defence, Vheriel saw the matter in black and white and couldn't reconcile this with the beliefs of her race.

What role did Hawkins have in mind for Vheriel? well that's a question for another day. Suffice to say he had an important role in mind for her, but external politics and Vheriel's beliefs put paid to that one. Can you still write a good story when you have a mega-powerful psionic on the ship? The quick answer is "yes". In fact, the presence of such a strong mind could be the source of a story or two. Vheriel may have settled on a secret research facility, but that doesn't mean she is safe...