Ingram class - Space Control Ship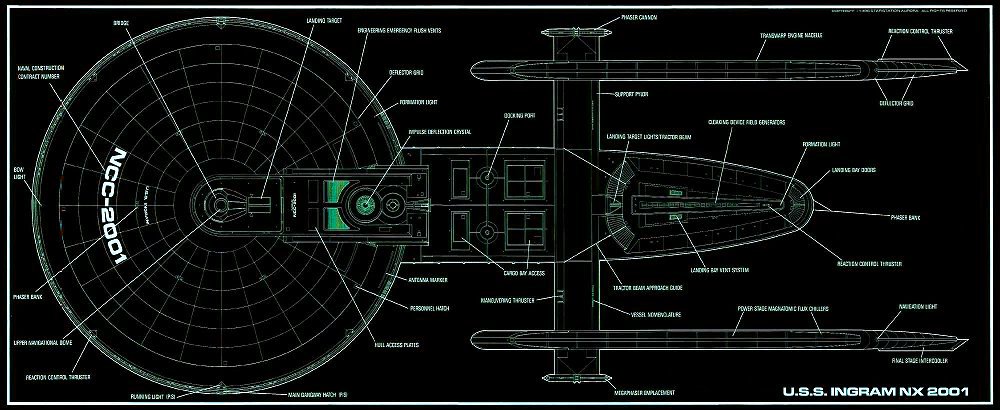 2274 Space Control Ship proposed.
2275 New warp drive concept proposed for long-range scouts.
2276 Transwarp Development Programme initiated.
2277 Space Control Ship programme initiated.
2283 Ingram design modified for Transwarp project (Richard Hawkins involved in this).
2289 NX 2001 Ingram commissioned.
2290 NCC Excelsior accepted as flagship explorer class for Starfleet, Ingram accepted as Space Control Ship design for TacFleet to replace Menahga family.
2291 Odysseus was laid down in light of Tabula Rasa needs and Menahga family failure. Simonov and Richmond orders were reinstated to follow on.
2296/7 Odysseus completed Ė since mildly modified Ingram design.
2298 Odysseus commissioned for final assault into ISC space.

Excelsior class was chosen as the successful explorer design in 2290 (when NCC 2000 was finally commissioned) and a high-level meeting took place between Admiral William Smillie, Commander-in-Chief, and the top brass of TacFleet, ASDB and Starfleet Security. The meeting discussed the need for a battlecruiser design to succeed the Menahga family. Mitannic and SíHarien had failed to provide an adequate successor and Andernach was on the drawing board at that time. Admiral Lars Thoresen of the ASDB suggested picking up the rejected Ingram class design for the role. The rationale was simple: Ingram had shown promising in her trials and would be readily adaptable to a battlecruiser/Space Control Ship role; indeed one of the criticisms of the Transwarp development team had been that Ingram was too militaristic for a general explorer role. What had been the reason for rejection before had become an endorsement for the battlecruiser role.

NX 2001 Ingram was drydocked at Utopia Planitia special projects dockyard for her conversion work as a prototype for the battlecruiser role. The work would be conducted within six months with the interior of the ship being modified for FSMC/Security Operations personnel and assault shuttle facilities to be installed. Ingram would be retained as a proof-of-concept technology demonstrator with U.S.S. Odysseus ordered as a first production vessel in 2291. Trials were conducted with NX 2001 both in Federation space and later she was used in service trials in the Tabula Rasa region to support assault operations there.

Ingram was an unqualified success and TacFleet immediately placed a cancellation order on SíHarien class beyond NCC 3112 and placed initial production orders for Baseline 1 Odysseus class. NX-2001 returned to the ASDB for further modifications to incorporate the new generation technology being proposed for Excelsior class baseline 2. What would later become the revised Albion and Enterprise-B design had its roots in modifications applied to Ingram. NX 2001 found herself allocated to Starfleet Research and Development and as such was the larger testbed to NX 1943 U.S.S. Monarch.

By 2313, NX 2001 was testing the new Baseline 2 modifications for Odysseus class and Baseline 3 systems for Excelsior.